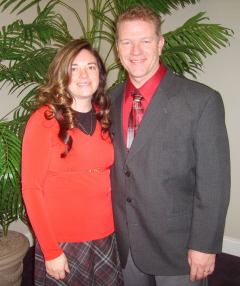 Jeff and Sherry Osborne

Pastor

Phone:859-986-3191

Email: pastorjeff@BereaEvangelistic.org

Address:


698 Fentress Lane
Berea, KY 40403
A native of Kentucky, Pastor Jeff was raised in Indianapolis. He graduated from Warren Central High School and was a member of the Eastside Trinity Gospel Tabernacle where his uncle, Rev. S.T. "Tim" Rector, was the pastor.
In 1981, he moved back to Madison County and shortly afterwards became a member of the Liberty Avenue Trinity Holiness Church in Berea.
In 1985 Jeff met his lovely wife, Sherry Pruitt, and was married September 7, 1985. They have three wonderful sons, Clint Westen and his wife Jenney, Jared Wayne and Grady Dillon.
Pastor Jeff has a rich history in Pentecost. His paternal grandparents, Jasper and Elsie Osborne, and maternal grandmother, Rosa Rector, were fairly well known in the Pentecostal churches in Rockcastle County and southeastern Kentucky. He started preaching in 1998 and has been the Pastor of the Berea Evangelistic Church sinice 1999.